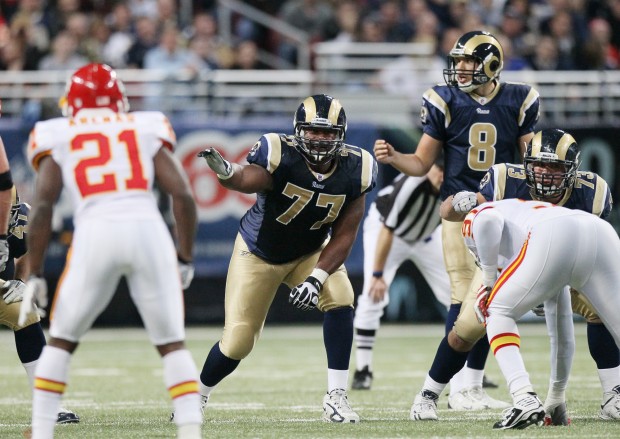 With a new regime comes a new face lift, and at this point the St. Louis Rams are completely out of butt fat and have been shot up with enough Botox to put even the most artificial Hollywood stars to shame.
After a historically inept five-year stretch between 2007 and 2011, resulting in a combined 15-65 record, there's no doubt that the team must get it right this time around, hence the hiring of an experienced coach like Jeff Fisher.
With a veteran coach, the Rams figure they'll be a consistent .500 team at worst, which is still light-years ahead of the current team and will certainly be enough to appease a starving fanbase that was positively thrilled with the team's 7-9 losing record in 2010.
But in order to complete that satisfying step from hopelessness to mediocrity, the front office must identify the dead weight and eliminate it.
Over the next month and beyond, expect multiple cuts and restructured contracts as Fisher begins to mold the team in his own image.
Think of Fisher as the surgeon while the Rams are the overweight patient getting lard sucked out before swimsuit season (which comes much quicker than we ever expect).
There are some obvious cuts waiting to happen, such as the blocking-specialist tight end who can't block (Billy Bajema). But there are also a number of borderline players who will force the coaches to make some difficult decisions.
This article will focus on those "on the bubble" players and decide who's worth keeping and who needs to hit the road.
Ron Bartell, Cornerback
Ron Bartell has arguably been the Rams' best defensive player over the last five or six years, which is why the team felt he was worth a four-year, $25 million contract in 2009.
However, Bartell missed basically the entire 2011 season with a fractured neck which he obtained in Week 1 against Philadelphia.
Bartell has supposedly been cleared to play again, but even before the neck injury, he was already in a constant battle with various injuries, resulting in 19 missed starts over the last three seasons.
While Bartell certainly has a lot to offer on the field, it might not be financially feasible to pay him the $6.2 million that he's due in 2012, especially since he'll not likely stay healthy for all 16 games.
It would be ideal to keep Bartell and sign free agent Cortland Finnegan, but if the team can afford only one of the two corners, then it has to be Finnegan.
Verdict: Simple... If the team signs Finnegan, then Bartell is gone. But if the team doesn't, then Bartell stays.
Jacob Bell, Left Guard
The Rams signed Jacob Bell away from the Tennessee Titans in 2008 as a high-priced free agent, but he has been nothing but a disappointment in a Rams uniform.
Unfortunately for Rams fans, Bell has a history with Fisher from their time together in Tennessee from 2004 to 2007, which could result in Fisher showing some sympathy towards Bell and his struggles.
However, Bell is now a free agent and won't be nearly as pricey as he was in the recent past, which will probably be the only reason that he's brought back in 2012.
Verdict: If Fisher feels he can force Bell to elevate his game, then the Rams will re-sign him to a contract that will be merely a fraction of the $36 million contract he signed in 2008.
Jason Brown, Center
Jason Brown had a phenomenal 2009 season with the Rams after signing a $37.5 million contract with the team as a free agent.
However, his level of performance was merely adequate in 2010 and then simply awful in 2011.
Brown is a bit of a mystery. He was great for Baltimore to start his career and was solid during his first year in St. Louis, so it's hard to determine if the problem is actually with Brown, or rather the unqualified coaching staff he played under.
Bell, Brown and Jason Smith are the three most problematic offensive linemen on the roster, but since there are no capable replacements waiting on deck, it's probably unrealistic to expect the team to let go of all three.
If just one of the three remains with the team in 2012, then it will probably be Brown, simply because he's the only one capable of staying healthy.
Verdict: Brown missed two games in 2011 due to injury, but he was able to start 64 consecutive games between 2007 and 2010. So if the Rams are going to keep one of their under-performing linemen, then it might as well be the only one capable of staying on the field. Not to mention, he's probably the one most likely to revive his game.
Fred Robbins, Defensive Tackle
Defensive tackle Fred Robbins came over in 2010 as a free agent and was a terrific addition who single-handedly helped the defense grow by leaps and bounds.
However, Robbins experienced a decrease in production in 2011 and his chances of rebounding in 2012 are slim due to the fact that he'll turn 35 years old in March.
Robbins had a special connection with former head coach Steve Spagnuolo stemming from their shared history together with the New York Giants, but that favoritism vanished as soon as Spagnuolo walked out the door.
Fisher has no special bond with Robbins and will only retain him if he's deemed worthy, which is a hard case to argue considering the $3.75 million he'll make in 2012.
Fisher's defense-minded philosophy will likely call for a new defensive tackle, as he values that position greatly, but there's a chance Robbins will retire before Fisher has a chance to cut him.
Verdict: Now that Spagnuolo is gone, Robbins will likely retire.
Jason Smith, Right Tackle
Former No. 2 overall pick Jason Smith is running out of opportunities to live up to his lofty draft status.
Unfortunately, Smith has been the victim of multiple concussions, which is spreading doubt that he'll ever be capable of a lengthy career in the NFL.
Even without the concussions, Smith has still been a major disappointment on the field, which could hurt his chances in 2012 considering the team will save millions in cap space by cutting him.
There's a chance Smith can revive his career at left guard not unlike Robert Gallery during his time in Oakland, but since Smith is due $10 million next year, it's probably too expensive to even consider that experiment.
Verdict: There's a chance the team will bring Smith back if he's willing to restructure his enormous $61.7 million contract, but the team will ultimately cut him if he refuses.
A.J. Feeley, Quarterback
A.J. Feeley was signed in 2010 as a likely backup quarterback, but since there was no guarantee that Sam Bradford would be drafted or even be ready to start Week 1, Feeley was partially treated as a starter.
Since starting games was in the realm of possibility, the Rams were forced to reflect that in Feeley's contract, which is why they inked him to a two-year deal worth $6 million. It was a bit pricey considering he had only started two games since 2004 at the time.
Now that Feeley is a free agent and Bradford is locked in as the starter, the team could probably bring him back at a reduced rate.
However, Feeley was considered a valuable backup due to his familiarity with Pat Shurmur's offensive scheme. But now that Shurmur is long gone as the team's offensive coordinator, there is really no reason to keep Feeley.
Third-string quarterback Kellen Clemens had an admirable game against San Francisco during the team's 2011 finale and is six years younger than the 34-year-old Feeley.
Coincidentally, Clemens played the first five years of his career with the New York Jets under offensive coordinator Brian Schottenheimer, who is now the Rams' new coordinator.
Verdict: Clemens flashed some potential in 2011 and is very familiar with Schottenheimer's scheme, which makes him the perfect backup. There is no reason to re-sign Feeley.
Mike Hoomanawanui, Tight End
Mike Hoomanawanui was the team's fifth-round draft pick in 2010 and flashed plenty of potential during his rookie season.
Right from the start, even during the preseason, it was obvious that Hoomanawanui (Illini Mike) and Bradford had some chemistry together in the passing game, but he was unable to compile a respectable rookie season after missing eight games due to a high ankle sprain.
While his injury-plagued rookie season was alarming, people still held out hope that he'd bounce back in 2011 and continue to grow as an offensive weapon.
However, it became painfully clear that his rookie injury was not an isolated incident after he again missed eight games in 2011.
Even while healthy, he still only had seven catches for 83 yards in eight games.
The Rams could use a weapon like Hoomanawanui on the field, but he clearly does not have a body capable of absorbing a regular beating.
Verdict: There's basically no chance that Hoomanawanui can stay healthy for 16 games. And while his potential is alluring, it would be foolish to waste the roster spot. He will likely be cut at some point, either in the upcoming months or during training camp.
James Hall, Defensive End
In 2010, Chris Long was the defensive lineman who received the most praise, but it was actually James Hall who led the team in sacks that year with 10.5.
While Hall still managed to stay relevant in 2011 with six sacks and 50 tackles, it's fair to say that he experienced an overall decline.
Hall still has something to offer, but with 2011 first-round pick Robert Quinn ready to replace him as the full-time starter at right defensive end, it doesn't make a lot of sense to keep the 35-year-old Hall.
Also, Hall is due $2.75 million in 2012, so his departure would save the team some money, which could go towards a younger and more productive free agent.
Verdict: There's a chance Hall will retire due to his age, but if he decides to play, then he'll likely force the team to cut him in order to save money.
Josh Brown, Kicker
Some teams take their kicker for granted, so they go out an find a new one only to find that the replacement is not as reliable, which results in them playing musical chairs with the position until they can finally find the right guy.
For that reason, it might be wise for the Rams to stick with an experienced veteran like Josh Brown who, at his worst, is still somewhat reliable.
However, Brown made only 75 percent of his field goals in 2011 and his longest was just a modest 49-yard kick.
Brown has not been a total disaster, but he is hardly reliable enough to justify the $14.2 million contract he signed in 2008.
Verdict: Brown is entering the final year of his contract, so the team might wait it out for one more year. However, he is set to make $2.7 million in 2012. And with his accuracy beginning to come into question, the Rams could get equal production for a quarter of the price.
Austin Pettis, Wide Receiver
Austin Pettis was the Rams' third-round draft pick in 2011 out of Boise State, but he was basically a ghost throughout his rookie year.
The team was weak at the receiver position, which gave Pettis every opportunity in the world to show his stuff, but he still managed to produce only 27 catches and 256 yards.
Assuming the team enters 2012 with Brandon Lloyd, Justin Blackmon (or any other drafted receiver), Danny Amendola, Greg Salas, Danario Alexander and Dominique Curry (special teams), that doesn't leave a lot of room on the roster for Pettis, who was a questionable draft pick to begin with.
Not to mention, Pettis was suspended for four games for using steroids. The suspension caused him to miss the final two games of the 2011 season and will force him to miss the first two games of 2012, which makes it that much easier to cut him.
Verdict: Expect Pettis to make it to training camp. However, he'll be cut before the season begins.